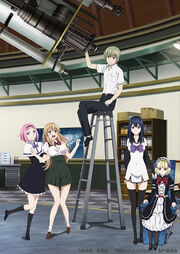 The Astronomy Club is a club which gazes at the stars. The headquarters is located in the old observatory at the top of a mountain, you can reach the top by bus but the last stop is at 8:30PM.
The Astronomy Club also houses some witches because they don't have any other place for shelter. Members of the Astronomy Club are the protagonists and main characters of the story.
Objectives
Edit
Previous Members
Edit
The Astronomy Club usually hangs out in the old observatory
Ad blocker interference detected!
Wikia is a free-to-use site that makes money from advertising. We have a modified experience for viewers using ad blockers

Wikia is not accessible if you've made further modifications. Remove the custom ad blocker rule(s) and the page will load as expected.